GP Bolasterone
General information:
Active substance: Dimethyltestosterone
Manufacturer: Geneza Pharmaceuticals
Unit: 20 tablets (50mg/tab)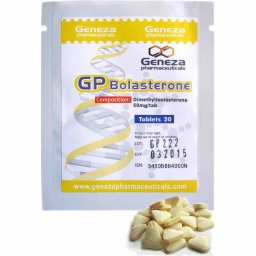 GP Bolasterone Profile
GP Bolasterone is an oral anabolic steroid produced by Geneza Pharmaceuticals and it is structurally related to methyltestosterone. It differs only by the addition of a methyl group at c-7, which accounts for its given chemical name, 7,17-dimethyltestosterone. The added c-7 methyl group makes the activity of this steroid far removed from methyltestosterone, however, such that any direct comparison is difficult to justify.

GP Bolasterone is DiMethyltestosterone or Methyltestosterone (testosterone with a methyl group at the 17th position) but with an additional methyl group (hence "dimethyl") at the C7 position. The first methyl group (at the 17th position) allows the steroid to pass through the liver and remain active in the blood. The Second methyl group (at the 7th position) prevents it from binding freely to Sex Hormone Binding Globulin (SHBG), thereby allowing much of it to remain unbound and in an active state, and therefore greatly increasing its potency. GP Bolasterone is derived from Testosterone with its high anabolic rating of (575) being 3x as androgenic as testosterone and almost 6x as anabolic.
GP Bolasterone Reviews
Bolasterone was originally a popular oral steroid being used by bodybuilders in Europe. Bolasterone had functions similar to dianabol, but it has long since been discontinued. Several years ago bolasterone became the first big name counterfeit steroid to be internationally marked. Belonging to a group of steroids titled the DDR compounds, inferring they came from East Germany, this steroid was billed as the best drug ever made.
GP Bolasterone Results
For beginners, GP Bolasterone is a fairly potent steroid, measured in human subjects to have approximately twice the anabolic effect of methandrostenolone. This is in contrast to methyltestosterone, which is considerably less potent than methandrostenolone. Despite being a testosterone derivative, bolasterone is also much more anabolic than androgenic in nature. At a given -therapeutic level, it is much less likely to cause androgenic/virilizing side effects. It does have one strong similarity to methyltestosterone, however, which lays in the fact that bolasterone too is quite estrogenic. Both agents are, therefore, most appropriately used during bulking phases or training.
GP Bolasterone Dosage
Clinical studies have demonstrated that significant nitrogen retention and weight gain can be induced with a daily dosage of 1-2mg per day. In the athletic arena, doses of 2-5 mg daily seem to be most reasonable, taken in cycles lasting no more than 6-8 weeks in length to minimize hepatotoxicity. This level is sufficient for strong increases in muscle size and strength, although such gains will likely be accompanied by significant water retention.
GP Bolasterone was not widely used with women in clinical medicine. When applied, it was most often used as a secondary medication during inoperable breast cancer, when other therapies have failed to produce a desirable effect. The dosage used for this application would be as high as 10 mg per day, a level that has caused significant virilization among patients. GP Bolasterone is generally not recommended for women for physique-.or performanceenhancing purposes due to its very strong nature and tendency to produce virilizing side effects.
GP Bolasterone Stack
To avoid strong estrogenic side effects, it may' be necessary to use an anti-estrogen such as Nolvadex. One may alternately use an aromatase inhibitor like Arimidex (anastrozole), which is a more effective remedy for estrogen control. Aromatase inhibitors, however, can bel' quite expensive in comparison to standard estrogen maintenance therapies,and may also have negative effects on blood lipids.
The use of a liver detoxification supplement such as Liver Stabil, Liv-52, or Essentiale Forte is advised while taking any hepatotoxic anabolic/androgenic steroids.
GP Bolasterone Side Effects
GP Bolasterone is aromatized by the body, and is considered a highly estrogenic steroid due to its conversion to 7,17dimethylestradiol (an estrogen with high biological activity). Gynecomastia may be a concern during treatment, especially when higher than normal therapeutic doses are used. At the same time water retention can' become a problem, causing a notable loss of muscle definition as both subcutaneous water retention and fat levels build.
Although GP Bolasterone is classified as an anabolic steroid, androgenic side effects are still possible with this substance. These may include bouts of oily skin, acne, and body/facial hair growth. Higher doses are more likely to cause such side effects. Anabolic/androgenic steroids may also aggravate male pattern hair loss. Women are additionally warned of the potential virilizing effects of anabolic/androgenic steroids. These may include a deepening of the voice, menstrual irregularities, changes in skin texture, facial hair growth, and clitoral enlargement.
GP Bolasterone is considered to have a comparable ratio of anabolic to androgenic effect as oxymetholone and methandrostenolone
GP Bolasterone is a c17-alpha alkylated compound. This alteration protects the drug from deactivation by the liver, allowing a very high percentage of the drug entry into the bloodstream following oral administration. ell-alpha alkylated anabolic/androgenic steroids can be hepatotoxic. Prolonged or high exposure may result in liver damage. In rare instances life-threatening dysfunction may develop. It is advisable to visit a physician periodically during each cycle to monitor liver function and overall health. Intake of c17-alpha alkylated steroids is commonly limited to 6-8 weeks, in an effort to avoid escalating liver strain. Studies adm.inistering 1mg and 2mg of bolasterone daily for 6 weeks to 27 patients have demonstrated a trend toward increases in serum alkaline phosphatase (a marker of liver stress), although no significant untoward effects on the liver were documented.
GP Bolasterone has a strong effect on the hepatic management of cholesterol due to its structural resistance to liver breakdown and route of administration. Anabolic/androgenic steroids may also adversely affect blood pressure and triglycerides, reduce endothelial relaxation, and support left ventricular hypertrophy, all potentially increasing the risk of cardiovascular disease and myocardial infarction. Studies administering 1mg and 2mg of bolasterone daily for 6 weeks to 27 patients have demonstrated a trend toward increased serum cholesterol. Although no HDL and LDL breakdown was provided, it can be assumed based on the structure and route of administration that bolasterone significantly shifted the ratio of these two fractions of cholesterol further apart, measurably increasing atherogenic risk.
GP Bolasterone For Sale
At our online steroid pharmacy GP Bolasterone from Geneza Pharmaceuticals is available in packs of 20 tabs, each tab containing 50 mg of Dimethyltestosterone substance. You can buy GP Bolasterone very cheap at a discounted price. We offer our clients fast delivery, good prices and the important thing is that one doesn't need prior prescription to order from us.