Oxanabol Tablets for Muscle Growth by British Dragon
Active life: 8-12 Hours.
Dosage: Adult dose is 20-100mg per day.
Liver toxicity: Mild.
Aromatization rate: None.
Active substance: Oxandrolone (10 mg/tab) in tablet form.
Product description: Oxanabol - low anabolic steroid activity, stimulating the synthesis of creatine phosphate in muscle cells, thereby increasing power performance. Active ingredient - oxandrolone, which was originally developed for women and children, so Oxanabol 50 mg is characterized by a mild effect, at the recommended dose does not have side effects.
Oxanabol promotes protein synthesis and inhibits the body's need for this substance. In addition, Oxanabol holds calcium that promotes the growth and strengthening of the skeleton. Athletes quickly assessed the property of the drug to increase strength. Oxanabol also is used by weight lifters, who want to improve their performance, but remain in the same weight category.
For those athletes who have a contraindication to testosterone, Oxanabol - perhaps is the only alternative, giving the chance to achieve high results. In combination with the use of other steroids Oxanabol stimulates muscle growth quality. Women taking Oxanabol, should not exceed a daily dose of 20-40 mg. Subject to this dosage in women showed no signs of masculinization and other side effects. At the same doses is recommended Oxanabol to light athletes.
Male bodybuilders for a noticeable increased power performance is recommended to use no less than 50 mg and not more than 150 mg per day of Oxanabol during cycles, as in the individual taking the drug, and in combination with other agents, and between cycles of 30-40 mg per day. For women Oxanabol is one of the best products, as it gives an opportunity to improve athletic performance and to maintain femininity. Besides, Oxanabol does not contribute to virilization. The drug also has inhibitory effects on the growth areas and helps young athletes to achieve good results in light and heavy weightlifting.
Possible side effects: Insomnia, hair loss, facial hair growth, clitoral enlargement, swelling of the extremities (especially ankles), acne, voice changes, headache.
Oxanabol Tablets trade names: Var, Oxandrolonus, Bonavar, Oxandroxyl, Oxanabol, Oxanodex, Oxandrolon, Anvar, Oxandrol, Anavar, Oxandrins, Oxandrin, Oxan.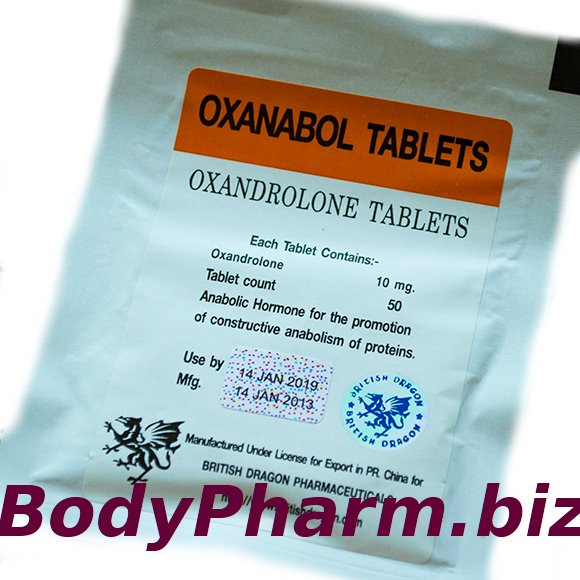 Anabolic Hormone for the promotion of constructive anabolism of proteins. Store Oxanabol Tablets at 20°C-25°C (68°F-77°F). Protect from light. Keep away from children.