Testoxyl Suspension 100 for Muscle Growth by Kalpa Pharmaceuticals
Active life: 24 Hours.
Dosage: Adult man dose is 350-1000mg intramuscular injection per week. Not recommended for women.
Liver toxicity: Low.
Aromatization rate: High.
Active substance: Testosterone Suspension (100 mg/mL) in water based solution.
Possible side effects: High rate of estrogen conversion, gynecomastia, high blood pressure, trouble urinating (pain or darkening of the urine), oily skin, acne, increased aggression, body/facial hair growth.
Testoxyl Suspension 100 trade names: Testoxyl, Aquabol, Big D, Testaplex, Aquatest, Aquabolic, Testodex, Primotest, Aquaviron, Ketasol.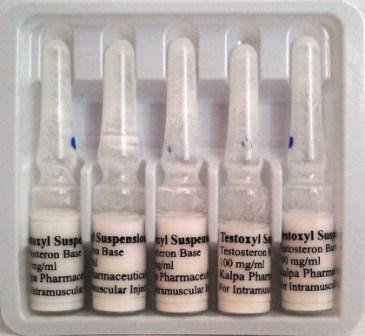 Pharmaceutical Grade-Supplement For Intramuscular Use Only. Store Testoxyl Suspension 100 at 20°C-25°C (68°F-77°F). Protect from light. Keep away from children.
External Links