Trenboxyl Acetate 100 for Muscle Growth by Kalpa Pharmaceuticals
Active life: 2-3 Days.
Dosage: Adult man dose is 50-150mg intramuscular injection per day. Not recommended for women.
Liver toxicity: Yes.
Aromatization rate: None.
Active substance: Trenbolone Acetate (100 mg/mL) in oily solution.
Possible side effects: Men - swelling of breast tissue, frequent urination. Women - deepening of the voice, clitoral enlargement, increased body hair, lack of menstruation. Men / Women - acne, changes in libido, scalp hair loss, aggression.
Trenboxyl Acetate 100 trade names: Trenacet, Trebol, Trenoid, Trenabol, Fina, Tritren, Trenodex, Trenboxyl, Finarex Depot, Para, Trenbol, TrenaJect, Trenaplex, Trinaxyl, Tren Acne, Tren, Tranabol, Trenatrex.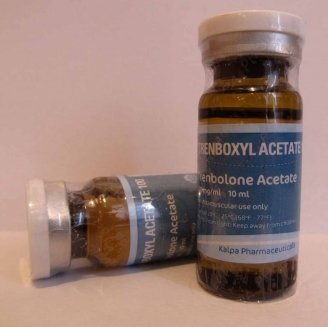 Pharmaceutical Grade-Supplement For Intramuscular Use Only. Store Trenboxyl Acetate 100 at 20°C-25°C (68°F-77°F). Protect from light. Keep away from children.