Oxydrol Tablets for Muscle Growth by British Dragon
Active life: 12-16 Hours.
Dosage: Adult dose is 50-150mg per day.
Liver toxicity: Very High.
Aromatization rate: None.
Active substance: Oxymetholone (50 mg/tab) in tablet form.
Product description: Oxydrol - one of the most powerful anabolic agents on the pharmaceutical market today. Its active substance - oxymetholone - characterized by a high anabolic activity.
Oxydrol Tablets has a strong androgenic effect. When properly used in the recommended doses and stacks, Oxydrol 50 provides gain of 5-7 kg of muscle in 2 weeks with a significant increase in strength.
Bodybuilders most commonly used Oxydrol for quick muscle building, but the wrong application and unjustified increase in dosage - in the best case does not give the expected results, and at worst can lead to undesirable complications.
At the beginning Oxydrol should be taken at 50 mg per day, and by the end of the first week of the cycle gradually the daily dose can be increased to 100 mg, and in the future, when an athlete reaches high results, you can try to increase the dose to 150 mg. Increasing daily dosage of 150 mg Oxydrol does not further improve the results, but increases the probability of side effects.
Two weeks before the end of the cycle gradually reduce the dose to the complete abolition at the end of the cycle. To restore the body's production of testosterone, stopping taking Oxydrol, the cycle is accompanied by taking testosterone boosters for 3-4 weeks and antiestrogens.
Gaining muscle mass fast contributes to a combination of Oxydrol with nandrolone decanoate. To preserve muscle mass, Oxydrol is used in combination with injection anabolics, particularly testosterone enanthate or sustanon. Traditional stack Oxydrol + Sustanon + Trenbolone gives better muscular gains and a solid increase in power rates.
Possible side effects: Hepatic cholestasis, polycythemia, water retention, rise in the liver enzymes values SGOT, SGPT which normalize after withdrawal.
Oxydrol Tablets trade names: Oxydrol, Oxymelone, Oxyanabolic, Oxitosona, Roboral, Synasteron, Dynasten, Kanestron, A-50, Anadroxyl, Androlic, Oximetalon, Hemogenin, Anasteron, A Bombs, Plenastril, Anadrol, Anapolon, Oxy, Drol, Oxydex.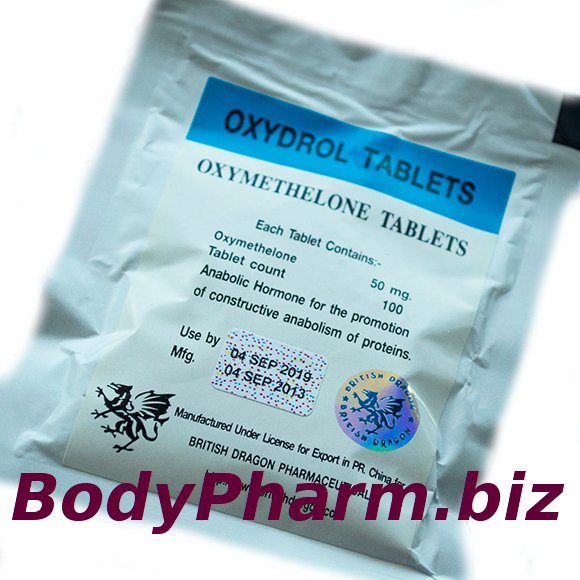 Anabolic Hormone for the promotion of constructive anabolism of proteins. Store Oxydrol Tablets at 20°C-25°C (68°F-77°F). Protect from light. Keep away from children.