Stanabol Tablets for Muscle Growth by British Dragon
Active life: 8 Hours.
Dosage: Adult dose is 2 mg to 12 mg per day orally.
Liver toxicity: High.
Aromatization rate: None.
Active substance: Stanozolol (10 mg/tab) in tablet form.
Product description: Stanabol from the company British Dragon - oral medication on the basis of the steroid Winstrol (active substance - stanozolol). Doping allows for appreciable reduction of body fat and rendering relief while maintaining muscle mass. Anabolic particularly "loved" by athletes, bodybuilders and powerlifters. The Thai company British Dragon Pharmaceuticals has an excellent reputation in the field of sports pharmacology. Strict control over the production of the drug determines its impeccable quality. According to numerous reviews on Stanabol Tablets, the effect of doping is fully consistent with the statement.
Stanabol Tablets Effects
Drawing muscle relief; progress on power performance; increase endurance; removing excess fluid from the body; increased libido; improvement of appetite. Stanozolol reduces the level of binding globulin, testosterone, which makes it the most powerful synergist for other types of anabolic steroids. The ability to block the production of estrogens and progestins is especially beneficial on the cycle with a strong androgen. By bioavailability, oral form is not inferior to steroid injection. The price of Winstrol tablets and injections also differs not much. Oral stanozolol is ideal for beginners who are not ready to daily painful injections.
Stanabol Tablets Cycle
The optimal duration of the cycle - 6-8 weeks, the dose - 30-50 mg / day (recommended for beginners to start with 10 mg / day, athletes and boxers also enough of 10-20 mg / day). The dose is best divided into 2 doses (morning and evening, after meals) to reduce the burden on the digestive tract. Stanozolol combination with other anabolic steroids reduces the frequency and increase the efficiency of the administration. Among the athletes are popular following stacking: drying cycle - Stanabol Tablets + Trenbolone. Result: elastic, tight muscles, reduction of body fat, increase strength and endurance. On the weight - Stanabol Tablets + Testosterone (Methandienone / Anadrol). Required inclusion in the cycle of aromatase inhibitors. The result: a set of high-quality muscle with a minimum of "water", progress on power exercises. Women are advised to be careful with both the dosage and the scheme of the drug. The daily dose (10-15 mg maximum) is best divided into 3-4 hours in order to avoid the accumulation of androgenic substances. Athletes should take into account the high risk of virilization.
Stanabol Tablets Side Effects
Pain in the joints and large bunches; liver toxicity; high blood pressure; myocardial hypertrophy (in excess dosage); androgenic effects - acne, hair loss, suppression of natural testosterone production, etc .; increasing the concentration of cholesterol in the blood; virilization and masculinization (in females). For the most part side effects can be avoided by the addition of a cycle with other steroids (eg: Testosterone and Deca) and supplements: omega-3 can help reduce cholesterol, enalapril - to normalize blood pressure, hepatoprotective - reduce the toxic effects on the liver.
Stanabol Tablets Post Cycle Therapy
Recovery begins after 1-2 days after the final administration of the drug and lasts for 3 weeks. For the "exit" antiestrogens will suit - Nolvadex (Tamoxifen) or Clomid (Clomiphene). Last in this case is preferable, because it has a softer effect and better tolerated by most athletes. Take Clomid as follows: 100 milligrams (1-2 days); 50 mg (3-14 days); 25 mg (15-22 days).
Stanabol Tablets trade names: Stano, Strombafort, Stanoxyl, Stanoject, Strombaject, Stanobolic, Azolol, Stromba Tablets, Rexobol, Stromba, Stanabol, Neurabol, Winstrol Depot, Stanozolols, Winstrol, Androstanazol, Unistan Depot, Stanodex, Winny, Stanol, Menabol, Rexogin, Stanotrex, Tanzol.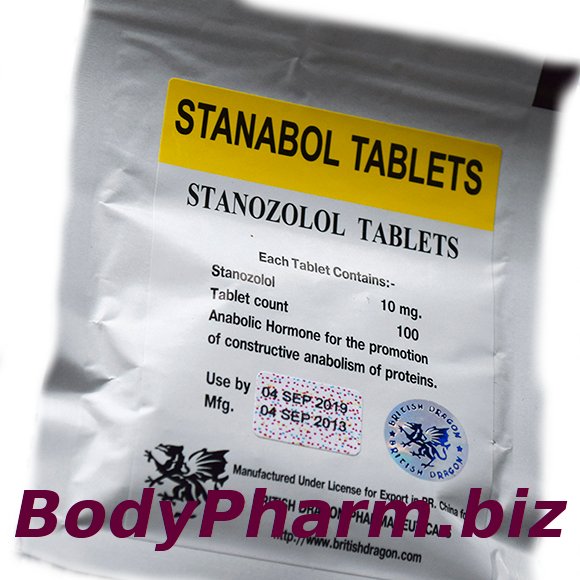 Anabolic Hormone for the promotion of constructive anabolism of proteins. Store Stanabol Tablets at 20°C-25°C (68°F-77°F). Protect from light. Keep away from children.