Turanabol Tablets for Muscle Growth by British Dragon
Active life: 16 Hours.
Dosage: Adult dose is 10-20mg per day orally.
Liver toxicity: Low.
Aromatization rate: None.
Active substance: Chlorodehydromethyltestosterone (10 mg/tab) in tablet form.
Product description: Oral Turanabol - anabolic steroid, which is similar in chemical structure and effects to methandrostenolone. The word "Oral" in the name means that the anabolic agent is administered orally (inside).
Unlike methandrostenolone, Turanabol contains an additional chlorine atom. The drug first was developed by the German pharmaceutical company Jenapharm and patented in 1961.
This drug can be described as liquid Methandrostenolone without delay effect in the organism. This is delayed acting steroid. During the Turinabol cycle - weight, power and performance relief are progressing very slowly, but the results and gains are better, says bodybuilders.
Another distinctive feature of the drug - the lack of estrogen effects (because the flavoring is not exposed, by the addition of chloride ion in the molecule), ie side effects such as water retention, gynecomastia, etc. almost never occur. Although there are reviews, which reported on the development of gynecomastia, which occurrence remains unclear. The most likely reason - the presence in the methyltestosterone, which is related to the synthesis features. Also, it was determined that the concentration of SHBG decreases, so increasing the level of free testosterone in the blood. There is evidence that Turanabol reduces the risk of blood clots in blood vessels and heart.
Possible side effects: Moderate reversible increase in liver enzymes, nausea, gastrointestinal upset.
Turanabol Tablets trade names: LIXUS T-Bol, Turanabolic, Turanaplex, Veyron Pharma T.B 0.10, Turinabol, Turanabol, Turanaxyl, Turinadex, Oral Turinabol, Turanabol 10MG.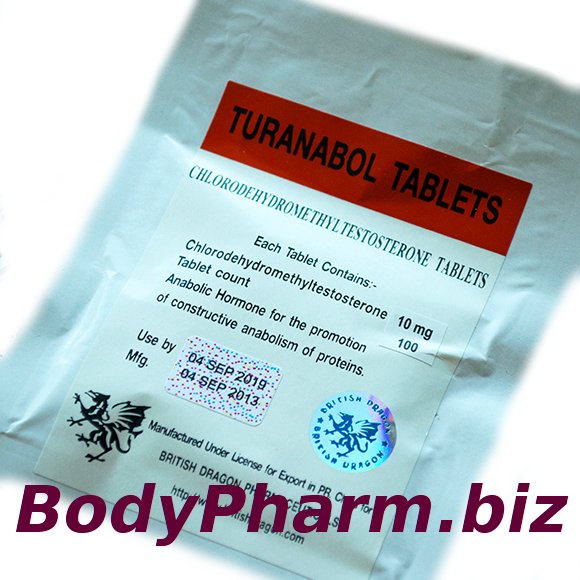 Anabolic Hormone for the promotion of constructive anabolism of proteins. Store Turanabol Tablets at 20°C-25°C (68°F-77°F). Protect from light. Keep away from children.