Turanabol for Muscle Growth by Dragon Pharma
Active life: 16 Hours.
Dosage: Adult dose is 40 mg to 60 mg per day orally.
Liver toxicity: Low.
Aromatization rate: None.
Active substance: Chlorodehydromethyltestosterone (20 mg/tab) in tablet form.
Product description: Turanabol (oral Turinabol) - Anabolic steroid, similar in structure to the Dianabol. The only difference between the preparation of methane - the presence of an additional chlorine atom in the fourth position. Due to this structure, the drug does not aromatize into estrogen, which negates the risk of fluid retention in the body, the development of gynecomastia, and acne. The drug is optimal for beginners who have not had experience with steroids. This is one of the safest means to build muscle. The risk of side effects is minimal. Abnormalities such as erectile dysfunction or problems with the liver, usually are associated with exceeding the recommended dosage or duration of the cycle.
Turanabol Effects
Turanabol does not act as quickly as other anabolic steroids, but gives better quality and durable result. The drug does not retain fluid in the body, so the "pullback phenomenon" is reduced to a minimum. Turanabol suppresses natural testosterone to the minimum and optimum levels of the hormone is restored within a week after the deadline. Novice athletes leave following review after the first year:
gain of quality muscle;
increased endurance;
progress on power performance;
increased free testosterone levels in the blood;
protection of the cardiovascular system.
Full Turanabol cycle allows you to dial from 3 to 6 kg of lean body mass. The gain on strength exercises is 10-15 kg, endurance increases significantly. The number of repetitions in exercises with its own weight (pull-ups, push-ups) also increases. Price of this drug is somewhat higher than the cost of Dianabol.
Turanabol Cycle
For men: optimal daily dose - 40 mg (2 tablets). Boxers, athletes and sportsmen, which wants to raise endurance, can take 10-20 mg. For some powerlifters dosage is adjusted to 100 mg, but the risk of side effects in this case is too large. For women, the optimum daily dose - 2-5 mg (1/4-1/2 tablets). This dose is for minimal risk of virilization.
For best results, Turanabol can be combined with: Testosterone. A popular cycle for the fast gaining of muscle mass - Turanabol 20 mg and 35 mg of testosterone per day. Injectable Winstrol (Stanozolol). A good choice for drying with minimal impact on the liver. Injections should be carried out every other day for 2, 3 and 4 weeks of cycle.
Turanabol Side Effects
Increasing the amount of Turanabol can cause pronounced masculinisation - body hair growth, deepening of voice, change of male pattern shapes, etc. The total duration of reception is 4 to 6 weeks. The half-life of the molecule substances - 16 hours, so it is best to divide the tablet into two portions. To reduce toxicity on the liver, steroids are taken after a meal and it is recommended to drink plenty of water.
Turanabol Post Cycle Therapy
On PCT, optimally take Clomid / Clomixyl - estrogen receptor blocker. This is a more gentle option than the use of the popular Nolvadex / Nolvaxyl. If the reception duration does not exceed six weeks and Turanabol was taken within the recommended dosage , the PCT treatment can be neglected.
Turanabol trade names: Oral Turinabol, Turanaplex, Turanabol, Turinabol, Turinabolo, Turanabol 10MG, Veyron Pharma T.B 0.10, Turanabolic, Tubol 10, Turanaxyl, LIXUS T-Bol, Turinadex.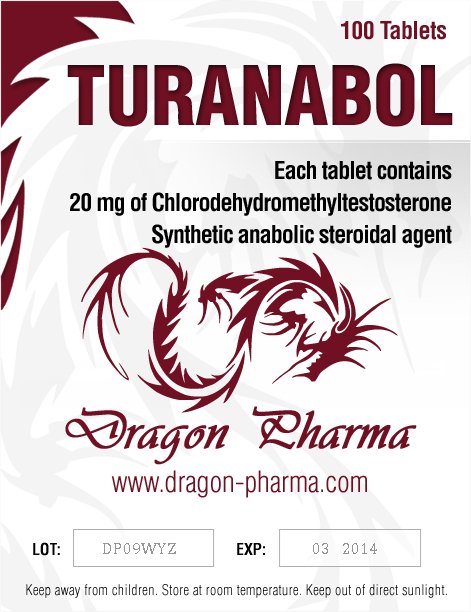 Synthetic anabolic steroidal agent. Store Turanabol at room temperature. Protect from light. Keep away from children.
External Links