Trenabol Depot 200 for Muscle Growth by British Dragon
Active life: 8 Days.
Dosage: Adult dose is 300-700mg intramuscular injection per week.
Liver toxicity: High.
Aromatization rate: None.
Active substance: Trenbolone Enanthate (200 mg/mL) in oily solution.
Product description: Trenbolone Enanthate - form of the Trenbolone drug which has similar pharmacological properties to the previous - Trenbolone Acetate. Trenbolone Enanthate has a long period of half-life - about 10 days. Injections are performed 1-2 times per week. Effective dose - 300 mg per week.
Trenbolone has a high affinity for the androgen receptor, binding capacity is greater than 5 times that of testosterone. This is due to the high activity of anabolic formulation. Trenbolone is one of the most powerful steroids in their ability to increase strength gains and muscle mass. At the same time it is reflected in the frequency of side effects, the risk of which is quite high, especially in improperly formatted cycles. Trenbolone gained its popularity mainly because it is not able to be aromatized into estrogens under the influence of aromatase. This deprives it of side effects such as gynecomastia and fluid accumulation. Trenbolone suppresses the production of testosterone, due to the feedback mechanism and progesterone activity. This results in side effects such as decreased libido, erection and flaccid testicular atrophy. Trenbolone is 19-nor derivatives of testosterone, which makes it similar to Nandrolone against progestivnoy activity.
For a set of muscle mass there is no need to combine trenbolone with other drugs. During the drying of the cycle, Trenbolone should be combined with Winstrol or Anavar. In this case, use half dosage of each drug. The duration of the combined stack - up to 8 weeks. Antiestrogens are not required. As it is well known professional cycles are almost always combined. In these examples are given dosage for Trenbolone Acetate. The dose is 100 mg a day (especially for precompetitive preparation in bodybuilding). For muscle stack, Testosterone Enanthate set is included in the rate of 250 mg per week and Nandrolone - 200 mg per week. Cycle time can be up to 10-15 weeks. It should be noted that such an approach is dangerous for health.
Trenabol Depot 200 trade names: Tranabol, Tren E, Trenoid, Fina, Trenoid, Tren, Trebol, Trenatrex, Tritren, Trenaplex, Trenabol Depot, Trenodex, Trenboxyl, Trinaxyl, Finarex Depot.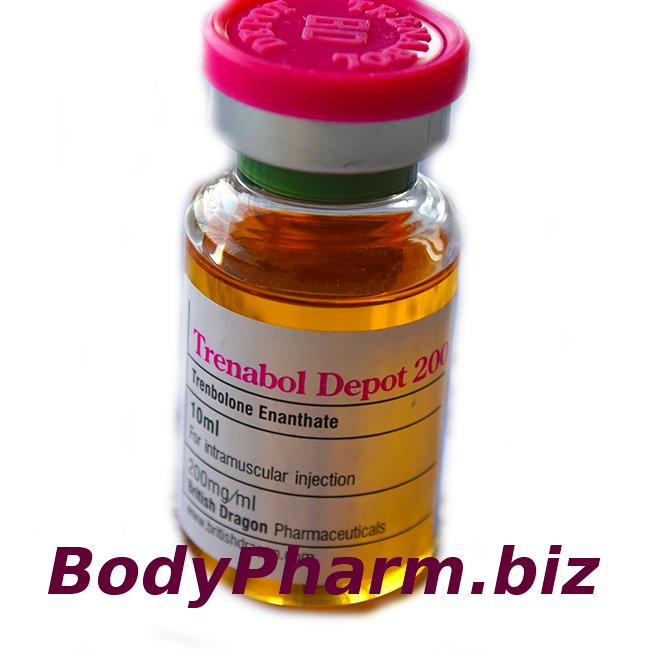 Pharmaceutical Grade-Supplement For Intramuscular Use Only. Store Trenabol Depot 200 at 20°C-25°C (68°F-77°F). Protect from light. Keep away from children.