Trinabol 150 for Muscle Growth by British Dragon
Active life: 8 Days.
Dosage: Adult dose is 50-150mg intramuscular injection per day.
Liver toxicity: High.
Aromatization rate: None.
Active substances: Trenbolone Acetate (50 mg/mL), Trenbolone Enanthate (50 mg/mL), Trenbolone Hexahydrobenzylcarbonate (50 mg/mL) in oily solution.
Product description: Trinabol from manufacturer British Dragon is the strongest mix of Trenbolone which has a very high anabolic and androgenic effect. Everyone who uses the Trinabol delighted with the results, because of the rapid growth of high-quality muscle mass with increasing force. Additionally, after regular use for several weeks, results are clearly visible: increased muscle hardness throughout the body without the diet at the same time.
Unlike most highly-androgenic steroids, Trenbolone does not aromatize. The substance trenbolone does not convert into estrogen, so that the athlete should not have to fight with high estrogen level or feminization. Athletes taking Trinabol report also that there is no water retention in the tissues. When a low fat content has been achieved by a low calorie diet, Trinabol gives a dramatic increase in muscle hardness. In combination with protein-rich foods is particularly effective at this stage, since it accelerates the metabolism of fat and accelerates combustion.
The high androgenic effect prevents a possible overtraining syndrome, accelerates the regeneration, and gives the muscles a full vascularity. Trinabol is not suitable for a long reception, because it is quite toxic. Duration of the cycle should be limited to a maximum of 8 weeks. It was proved that Trenbolone primarily puts strain on the kidneys than the liver. Athletes who have taken it in high dosages over several weeks often report an unusually dark urine. In extreme cases, in the urine may be isolated blood, a clear indication that there is damage to the kidneys.
Those who use Trinabol should drink an additional 3-5 liters of water per day, as it helps cleanse the kidneys. Since Trenbolone doesn't hold water it rarely leads to blood pressure. Some athletes were talking about headaches, loss of appetite, when they take more than one (200 mg) per week. Trinabol significantly reduces endogenous testosterone production, at the end of the cycle you need to use a testosterone stimulating drug.
Side effects can be acne, hair loss on the scalp, menstrual disorders, absence of menstruation, increased libido, aggressiveness, deep voice, clitoral hypertrophy, and increased hair growth on the face and legs.
Usage: Most athletes take Trinabol at least twice a week, but some bodybuilders administered 1-2 ampules per day for the last three to four weeks, the dose usually 228 mg / week is enough. Our experience shows that good results can be achieved by administering 76 mg every 2-3 days. In stack with Winstrol it works well and gives the athlete to gain hardness and high quality muscles together with an enormous raised power. Athletes interested in rapid weight gain often also use 30 mg / day of Dianabol while those who are more interested in quality and strength can add 25 mg of Oxandrolone per day. Trinabol also brings very good results when used in combination with growth hormone.
Trinabol 150 trade names: Trenatrex, Trenboxyl, Finarex Depot, Tranabol, Trenabol Depot, Parabolin, Parabolan, Trenoid, Trebol, Tren, Finbolan Hexa, Hexahydrobenzylcarbonate Cyclohexylmethylcarbonate, Androxine, Trenaplex, Tritren, Trenodex, Parabolic, Trinaxyl.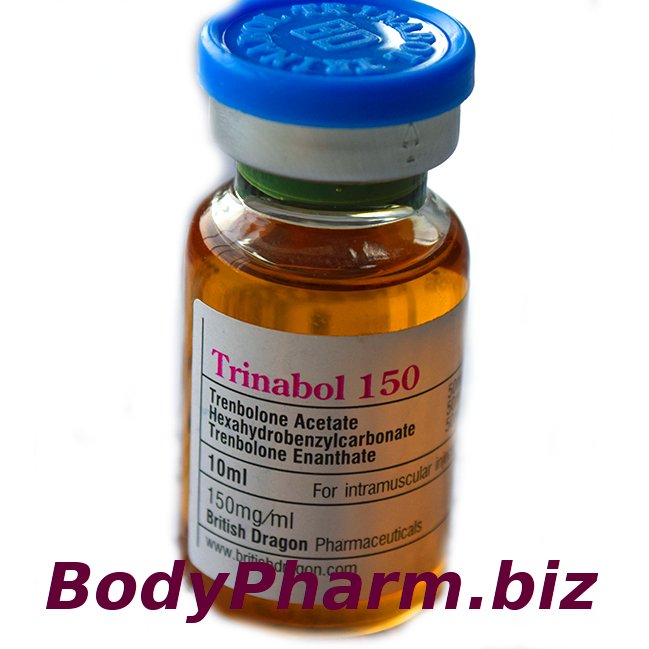 Pharmaceutical Grade-Supplement For Intramuscular Use Only. Store Trinabol 150 at 20°C-25°C (68°F-77°F). Protect from light. Keep away from children.