Kalpatropin for Muscle Growth by Kalpa Pharmaceuticals
Active life: 2.5-3 Hours.
Dosage: Adult dose is from 4 IU to 10 IU intramuscular injection per day.
Liver toxicity: No.
Aromatization rate: None.
Active substance: 6.7 mg Somatropin rDNA origin (20 IU) in powder form.
Product description: Kalpatropin (Somatropin rDNA Origin) - polypeptide hormone produced by the anterior pituitary gland. The name of GH received for being in adolescents it provokes lengthening of long bones in the limbs, thus accelerating the growth of the body length. Kalpatropin is actively used in bodybuilding, more often - in cycle with anabolic steroids.
Kalpatropin Effects
The main feature of the Kalpatropin - its ability to give a dense growth of muscle and burns subcutaneous fat. Muscle volume and elasticity are achieved by fluid retention in the cells and connective tissue growth. However, for strength and endurance, Kalpatropin does not give progress, therefore, not suitable for bodybuilders and athletes. Another interesting effect of Kalpatropin - reducing the likelihood of injury. This is due to its ability to strengthen bone tissue, tendons and cartilage. Kalpatropin also speeds up the healing process and recovery of injured tissue.
Kalpatropin Cycle
Kalpatropin solo cycle is best suited to athletes with a good percentage of muscle mass, wishing to make a good form. A nice side effect - visual rejuvenation, improving skin and muscle elasticity. Take the Kalpatropin as follows: dosage - 5 IU daily, subcutaneous injection. After 2 weeks the dose can be raised up to 10 units (2 injection) in the absence of express side effects. Injection is best done for 30-60 minutes before meals in the 1st half of the day and immediately after exercise. Cycle duration - 3 to 6 months. Less cycle duration pronounced effect will not bring, instead a long cycle duration will cause high risk of side effects manifestations.
Kalpatropin Stack With Anabolic Steroids
In stack with anabolic steroids, Kalpatropin gives a considerable gain in muscle mass, the drawing of the muscle form and the already mentioned effect of rejuvenation. As a basis we can take solo cycle, to which is connected Cypionat 250 / Testoxyl Enanthate (250-500 mg / week), Sustanon / Sustaxyl in the same dosage or Boldenone / Boldaxyl (400 mg / week). The duration of the combined program - up to 8 weeks.
For those wishing to get a pronounced muscle relief, Kalpatropin is combined with Anavar / Oxandroxyl (30-50 mg / day), or Winstrol / Stanoxyl (30 mg / day). Result - thick, elastic muscles, minimal water retention in the body, the skin quality improvement. This product is 100% original and has a certificate of quality.
Kalpatropin Side Effects
Carpal tunnel syndrome, edema, blood pressure drops, depression of thyroid function, an increase in blood glucose levels (hyperglycemia).
Kalpatropin trade names: Hygetropin, Kigtropin, Riptropin, Jintropine, Somatropin, Kefei, Nutropin, Zorbtive, Ansomon, Glotropin, Zomacton, Norditropin, Ansomone, Biotropin, Taitropin, Humatrope, Jintropin, SimpleXx, Tev-Tropin.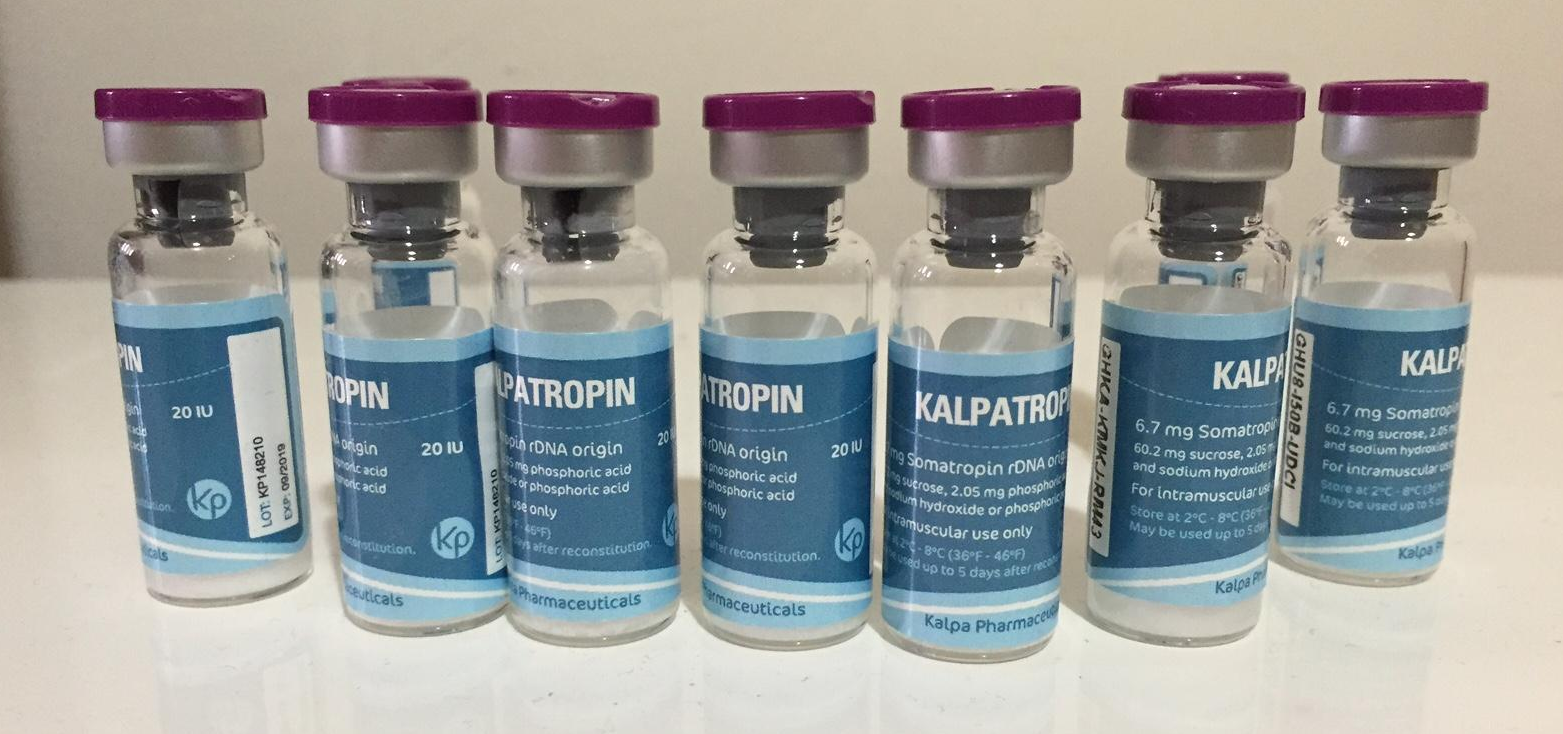 Synthetic anabolic steroidal agent. Store Kalpatropin at room temperature. Protect from light. Keep away from children.