Nandroxyl 250 for Muscle Growth by Kalpa Pharmaceuticals
Active life: 15 Days.
Dosage: Adult man dose is 200-600mg intramuscular injection per week. Adult woman dose is 100mg intramuscular injection per week.
Liver toxicity: None.
Aromatization rate: Low.
Active substance: Nandrolone Decanoate (250 mg/mL) in oily solution.
Possible side effects: Gynecomastia, erectile dysfunction (including constant erections), change in testicular function and sperm production, liver cell tumors, peliosis hepatitis, formation of blood-filled cysts inside the liver and/or spleen, acne, insomnia, jaundice (yellowing of skin), depression and/or aggression, diarrhea, nausea, vomiting.
Nandroxyl 250 trade names: Nandronit D, Axidrol, Nandroxyl, Decaplex, Therabol, Cheribol, Decabol, Decabolic, Grodec, Myobolin, Deca-Duralin, Durabol, Nandrobolin, Zebol, Nandrolona, Decaver, Duraxyl, Durabolin, Nandrodex, Growdeca, Durobolic, Gemdec, Decatrex, Deca, NPP, Newdec, Deca-Durabolin, Pylodec, Nitrobol, Decos, Synobol, Nandrolone.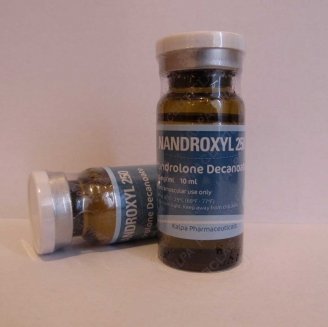 Pharmaceutical Grade-Supplement For Intramuscular Use Only. Store Nandroxyl 250 at 20°C-25°C (68°F-77°F). Protect from light. Keep away from children.