Testoxyl Propionate 100 for Muscle Growth by Kalpa Pharmaceuticals
Active life: 2-3 Days.
Dosage: Adult man dose is 350-2000mg intramuscular injection per week. Not recommended for women.
Liver toxicity: Low.
Aromatization rate: High.
Active substance: Testosterone Propionate (100 mg/mL) in oily solution.
Possible side effects: Stomach upset, headache, acne, air growth on the face and body, male pattern baldness, change in sex drive, anxiety, depression, pain or inflammation at the injection site. Men may experience enlargement of the breasts and increase in the frequency and duration of erections.
Testoxyl Propionate 100 trade names: Propionate, Propionat, Test Prop, TestoRapid, Testodex, TestP, Propioplex, Prop, Virormone, Testovis, Testosterona, TestoPro, Testoviron, Testoprogen, Testos-P, Anatest, Testoxyl, Viromone, Propitrex, Viro-Prop, Testpronate.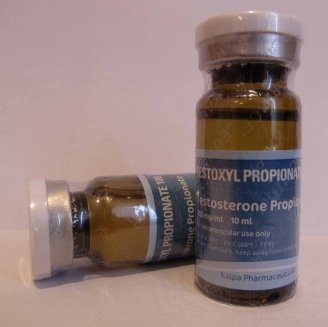 Pharmaceutical Grade-Supplement For Intramuscular Use Only. Store Testoxyl Propionate 100 at 20°C-25°C (68°F-77°F). Protect from light. Keep away from children.
External Links