Testabol Propionate 100 for Muscle Growth by British Dragon
Active life: 2-3 Days.
Dosage: Adult man dose is 50-100mg intramuscular injection per week. Adult woman dose is 50-100mg intramuscular injection per 2 to 4 weeks.
Liver toxicity: Low.
Aromatization rate: High.
Active substance: Testosterone Propionate (100 mg/mL) in oily solution.
Inactive substance: Ethyl Oleate.
Product description: Testosterone Propionate - another injectable testosterone ester, has, however, some of the qualities which are not common to Enanthate and Cypionate. The main difference is that it has a much shorter duration of action - only 1-2 days. Accordingly, to obtain the desired effect it is necessary to inject quite often - at least every other day, and at the "advanced" stages of athletes can use it on a daily basis. The usual dosage for a single injection - 50-100 mg. Using a very fast "switch" to the work of the Testosterone Propionate, many athletes use it at the beginning of the Testosterone Enanthate cycle lasting for several weeks. Together with 250 mg of Testosterone Enanathate is injected 50 mg of Testosterone Propionate. After two days, propionate action weakens, then 50 mg is injected once again. Two days later, thanks to an increased level of testosterone decreases again, but at this time begins to work Enanthate. Thereafter, injecting Testosterone Propionate is optional. In the same ways works Sustanon and Supertest, which also include propionate ester.
Another area of ​​application of the Testosterone Propionate can be a period of "drying", as another difference from other injectable testosterone is that it only minimally maintain water retention. The combination of 50 mg Testosterone Acetate in a day, 50 mg Winstrol Depot every other day and 25 mg Oxandrolone every day gives good results in this phase, and combined with the high-protein diet is quite suitable for building up "quality" muscle.
Newcomers for this purpose can be recommended to try a combination of Testosterone Propionate with Nandrolone Decanoate (200 mg weekly). With regard to the possible side effects when taking Testosterone Propionate, they are similar to those that occur when taking any other testosterone: acne, gynecomastia, etc., but they occur much less frequently, and weaker than at the same Enanthate. However, in spite of its "softness", Testosterone Propionate as well as other synthetic androgens quite frustrating production of testosterone, so at the end of the cycle should be taken Gonadotropin.
Testabol Propionate 100 trade names: Propioplex, Testosterona, Prop, Testovis, Testoprogen, Testoviron, TestoPro, Testos-P, Viro-Prop, Testodex, Testoxyl, Propitrex, Testpronate, Virormone, Viromone, TestoRapid, TestP, Test Prop, Propionate, Anatest, Propionat.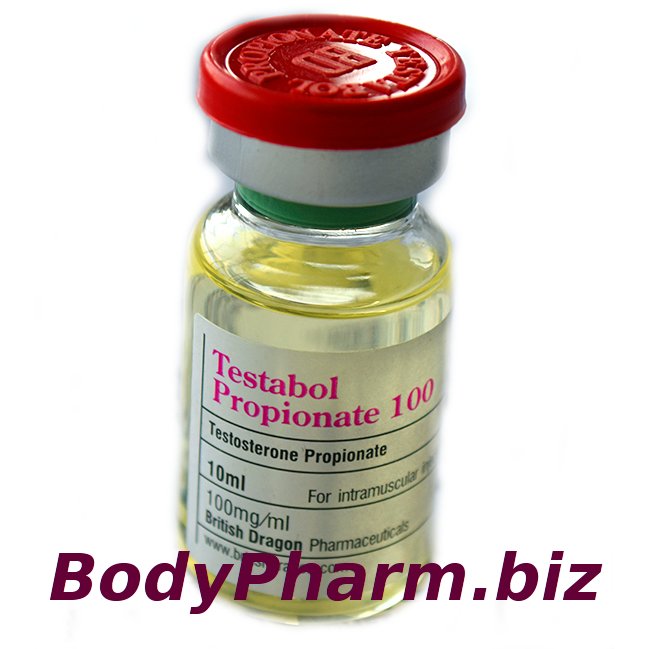 Pharmaceutical Grade-Supplement For Intramuscular Use Only. Store Testabol Propionate 100 at 20°C-25°C (68°F-77°F). Protect from light. Keep away from children.
External Links