Boldabol 200 for Muscle Growth by British Dragon
Active life: 15 Days.
Dosage: Adult man dose is 200-600mg intramuscular injection per week. Adult woman dose is 50-100mg intramuscular injection per week.
Liver toxicity: None.
Aromatization rate: Low.
Active substance: Boldenone Undecylenate (200 mg/mL) in oily solution.
Inactive substance: Arachis Oil.
Product description: Boldabol is popular not only in veterinary medicine where it is used for cows, horses and dogs, but rather it is preferred by a majority of bodybuilders, thanks to its unique performance. It has such characteristics, which can not be found in any substance, and its use is so varied that it can not fail to impress. Boldenone - a real anabolic coupled with weak estrogenic and androgenic effects. Something like a soft testosterone. In structure it does not differ from testosterone, the main feature - is the presence of a double bond in the first position and also in the fourth. This fact, however, demand and gives good drug. The peculiarity of its formula, or rather in a chain androgenic component - is that it does not refer to the 5-alpha-reduced form, as is the case with the majority of steroids. In turn, Boldenone has its own formula 5AR (digidroboldenon, about 7 times more anabolic than testosterone). Hence the conclusion that most of the Boldenone anabolic effect is based on the fact that the hormone alone binds the androgen receptor.
Like most steroids, it helps build muscle mass by increasing the nitrogen balance in a positive way, which leads to a productive, protein synthesis, and a significant increase in appetite! Among long been known drugs, most people are looking for something that will surpass the already existing results, and due to the success of boldenone. The proof is not its anabolic activity, but the end result after the cycle.
Boldenone though has estrogenic activity, but very weak, which carries more positive, than negative. Aromatization using boldenone is so insignificant that it can not lead to real problems, usually in the normal dosage (300-400 mg / week.) Side effects such as gynecomastia and excessive fat deposition - are excluded. Nevertheless, a small aromatization is desirable as estrogens directly affect the anabolic activity. Probably for the best utilization of glucose (glycogen replenishing stocks) and stimulate the release of growth hormone.
Most estrogens have the ability to update the androgen receptors, allowing the hormones acting on them, to achieve the greatest anabolic effect. That is why such a strong androgenic steroids as Anadrol and Testosterone, may give greater muscle mass. From this viewpoint, Boldenone is a steroid most suitable because of its moderate estrogenic activity that only benefit, but leads to aromatization. And without doubt the perfect balance in practice, play a role in appetite stimulation. For athletes, weightlifting or bodybuilding, Boldenone is one of the most preferred steroids, as it also stimulates the release of the kidneys Eritropoetin, a hormone known as EPO, and stimulates the production of red blood cells (RBCs). The role of red blood cells - is the transportation of oxygen to all the tissues and cells of the body, oxygen, in turn, is essential for achieving the best results for a long time. In bodybuilding, these characteristics can be very useful to maintain vascularity, for example.
For this combination of boldenone with non-aromatazing drugs such as Winstrol or Primobol helps to keep dry mass and vascularity. The only thing you need to do is to try to restrain the increased appetite. So maybe it's a good idea to combine large dosage of Boldenone steroid to those (working on the ground) as Anadrol and Testosterone to produce amazing results.
Side effects of Boldenone are negligible. At a dosage of 300-400 mg per week aromatization reaction does not occur even in people susceptible to estrogen. In the case of Boldenone, androgenic effect with prolonged use or large dosages may be minor virilizing phenomena, such as, acne and hair growth. For men, there are no real contraindications, and for women should be used according to their androgen sensitivity.
The dosage of 300-400 mg per week is suitable, since it is not toxic to the liver and may be suitable for prolonged cycle. The emergence of the underground production of Boldenone in higher dosage (200 mg/mL) is to facilitate its use, ie the ability to make an injection once a week, and due to the high concentration will reach total effect. The best results are achieved when Boldenone is used in higher doses (600-800 mg / week.) In the first 2 weeks, and at the end of cycle, the normal dosage is (300-400mg / week.) For 8-10 weeks.
Boldenone is the most commonly used steroid for the cycle on a dry weight basis. Can be stacked with Trenbolone, Stanozolol and Testosterone Propionate.
Stanozolol in practice indispensable for increasing muscle stiffness and strength, while, Boldenone improves vascularity aromatization without risks. 50 mg of Stanozolol every day and Boldenone from 300-400 mg / week.
Trenbolone can be a worthy addition to anyone looking for a moderate results in the mass, but to achieve good muscle quality.
Parabolan at 76 mg every other day, for example, will bring real results for the dry mass in combination with Boldenone, without the problem of losing shape and topography. In any case - the choice is yours. For example, 300 mg per week of Equipoise, Parabolan at 76 mg and 50 mg of Winstrol daily and maybe Testosterone Propionate at 50 mg per day.
Possible side effects: Geriatric patients treated with androgens may be at an increased risk for the development of prostatic hypertrophy and prostatic carcinoma. The same precautions have to be taken as with other AAS convertible into DHT..
Boldabol 200 trade names: Bold 200, Boldenone, Boldoject, Boldo, Equidex, Bolde, EQ, Boldabol, Boldebolin, Equiplex, Ganabol, Bolden, Boldaxyl, Boldenon, Equipose.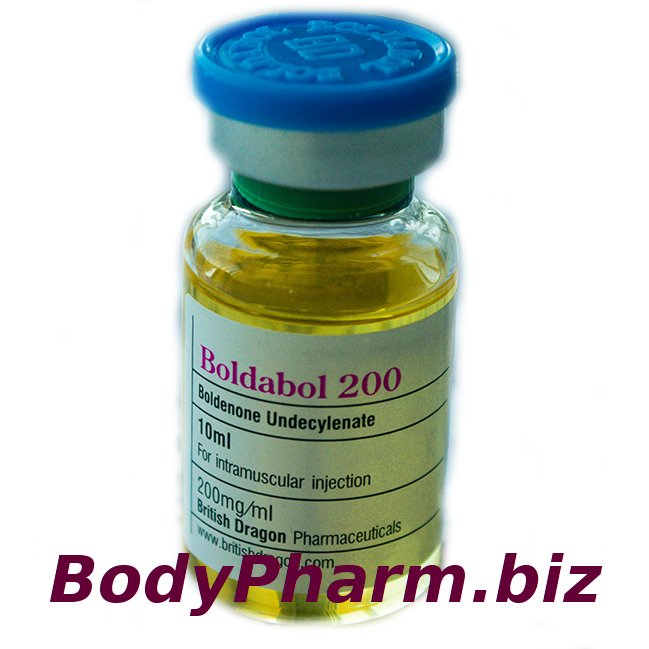 Pharmaceutical Grade-Supplement For Intramuscular Use Only. Store Boldabol 200 at 20°C-25°C (68°F-77°F). Protect from light. Keep away from children.